Upcoming Events
The School of Philosophy organises various events and courses for the enjoyment of students and visitors. This page lists upcoming offerings that complement the School's Philosophy courses and bring practical philosophy to everyday living.
You can also read more about featured events in the Features section of this site.
On the Calendar
Afternoon with Plato - Saturday 29th July, 2017 - see below
Explore Practical Philosophy at Ballarat - Saturday 5th August, 2017 - see below
Start of Term 3, 2017 - Monday 11th September, 2017
An Afternoon with Plato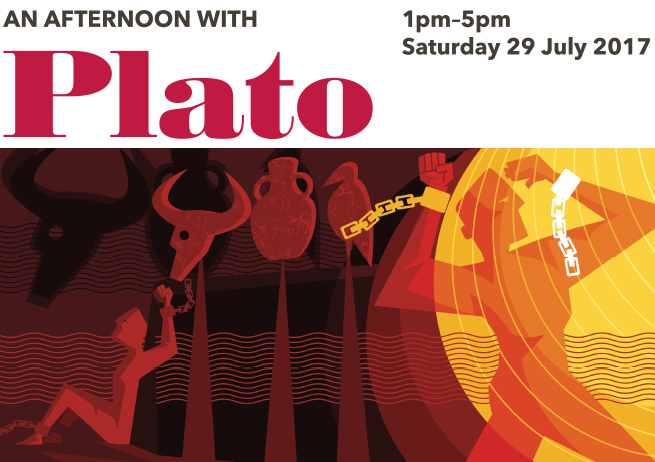 HOW WOULD YOU BE GOVERNED?
The basis of government for any state or nation lies in the individuals who make it up.
Using a dialectical approach, we will explore what Plato said 2,500 years ago about government. We will investigate whether his words remain relevant today, what relevance they have to us as individuals, and whether they can help us to make sense of present day political events.
Plato's systems of government apply equally to states and to individuals. How would we be governed? Would we prefer to be ruled wisely, or are we tyrannised by our own desires and preferences?
Open to students of the School of Philosophy and their family and friends.
Download a brochure here.
When: Saturday 29th July, 2017, 1pm to 5pm
Where: School of Philosophy
MacLaren Hall
1 Through Street
Hawthorn
Cost: $25 entry fee
Refreshments provided.
Register now at: https://www.trybooking.com/291508
For more information contact Marita Brewster at plato@schoolofphilosophy.org.au or on 0411 148 291
Explore Practical Philosophy at Ballarat
Explore PRACTICAL PHILOSOPHY
... experience the difference
'Remarkable People' workshops and poster displays
Saturday 5 August 2017
at Earth Ed, Olympic Avenue, Mt Clear
Program
Explore and travel through time with remarkable people in a selection of workshops and poster displays, with complimentary refreshments, light lunch and, if required, supervised school aged children's activities. Each workshop and poster display, in its own way, remembers and reveals wisdom, knowledge, love and happiness; they need not be searched out, rather they are closer than we think - they reside within.
10.00 –
11.00am

Workshop 1
'Why Plato now?'
Marita Brewster

OR

Workshop 2
'Eckhart Tolle in action'
Ruth Wood

11.00 –
11.30am

Morning tea, posters

11.30 –
12.30pm

Workshop 3
'Peace in our time'
Alison Brookman

OR

Workshop 4
'Philosophy and minimalism'
Belinda Fyffe

12.30 –
1.30pm

Light lunch, posters

1.30 –
2.30pm

Workshop 5
'Heartfulness'
Dr Stephen McKenzie

OR

Workshop 6
'Calm amidst storm'
Teresa Arnold

2.30 –
3.00pm

Afternoon tea, posters

3.00 – 4.00pm

Plenary Workshop 7
'Life, the universe and everything'
Dr Stephen McKenzie
How to book
Booking online or prepaid strongly recommended.
Select a maximum of four workshops for a full day; or, select one, two or three workshops for part of the day.
For parallel workshops on at the same time, select only one workshop; i.e. 1 or 2, 3 or 4 and 5 or 6.
Workshops cost $11.00 each, + 30c per workshop online booking fee.
If required, select supervised activities for school age children; these are free.
Online
Book now at https://www.trybooking.com/278002
Prepaid
For prepaid booking by credit card, phone 03 5341 3468.
Payment on the day
Payment may be made in person on the day, half an hour before workshop commencement; you may pay by cash, credit card or cheque.
---